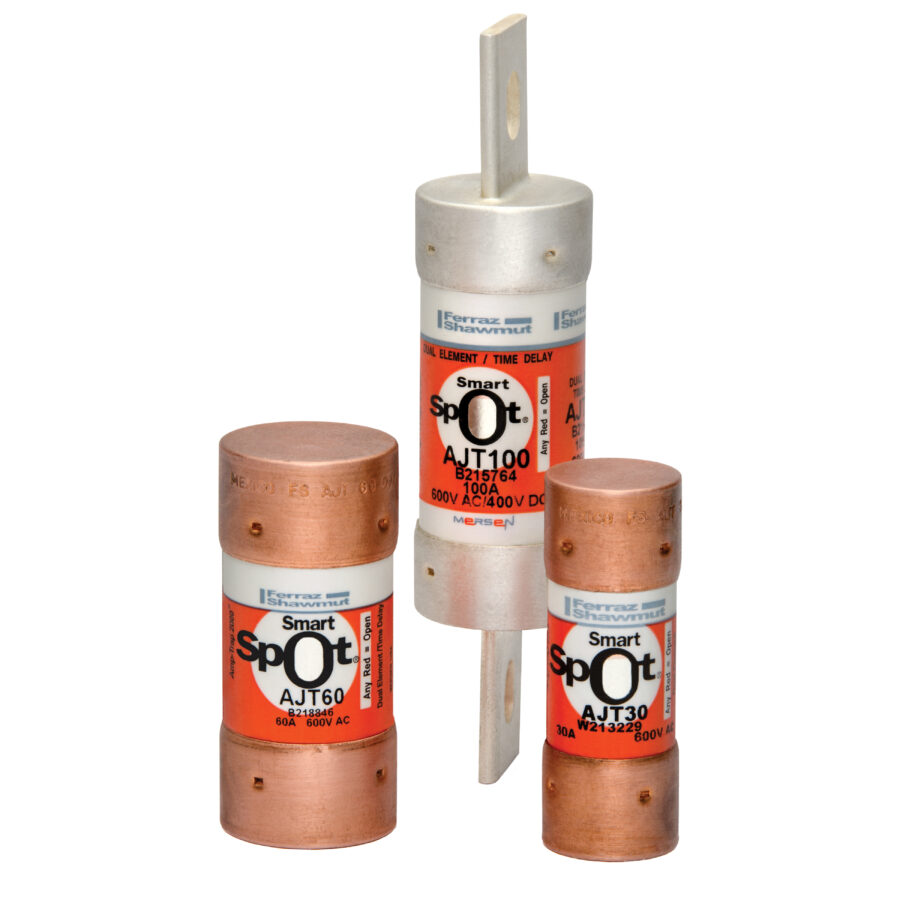 NEWBURYPORT, MA (January 19, 2022) – Mersen is pleased to announce improvements to its AJT series of fuses (15-100 Amp models), enabling an increase in AC operating voltage from 600VAC to 700VAC. This has been done primarily to better accommodate power transmission networks at 585V or 600V, especially common in Northeast Canada and the Midwest US.
Mersen's Class J AJT fuses are compact fuses that offer big protection. The most current-limiting UL-class fuse, Mersen's AJT series provides optimal performance and saves valuable panel space. Their time-delay characteristic allows for use in a wide range of applications. AJT fuses are available in indicating and non-indicating versions.
Mersen is the only fuse manufacturer to offer Class J fuses with the 700VAC specification. The fuses have been UL self tested. There will be no change in part numbers or pricing. The new 700VAC specification will be available in 15-100A AJT fuses as of the manufacturing date of February 14, 2022.
For more information about Mersen, visit ep.mersen.com.
For more information about Mersen AJT fuses, visit the AJT fuse web page.
About Mersen
Mersen is a global expert in electrical power and advanced materials for high-tech industries, with over 135 years of experience, and more than 50 industrial sites and 16 R&D centers in 35 countries. Mersen Electrical Power provides a broad portfolio of products in electrical protection and control and offers solutions for power management applications. Mersen Electrical Power teams work with customers worldwide to design and to deliver customized solutions and key products into various key markets such as commercial, industrial, renewable energies, power electronics, and E-mobility. Mersen's mission is to make customers applications safer and more reliable. For more information, visit ep.mersen.com.