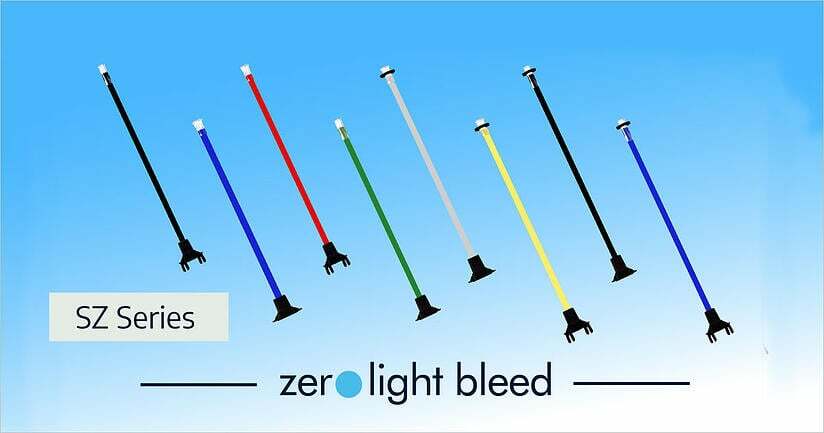 Bivar's the first to offer a flexible light pipe system with innovative Zero Light Bleed adapter technology and optional built-in surface mount LED: an all-in-one solution.
The new flexible light pipe system expands the family and provides even more agility in design to move light long distances, move around obstacles, and easily handle re-designs. The Zero Light Bleed adapter channels light directly to the lens. This eliminates disruptive light bleed in and around the circuit board, which is known to cause false readings, muted and blended colors, and unwanted glow in the chassis.
The Zero Light Bleed SZ Series is available in a wide variety of options: optional built-in LED, unique fiber colors, and a range of sizes.
Product Details
Range of lens sizes and shapes available
Bivar lens and optical fiber bonding process for increased durability
Available in IP54 Rated configuration

Available in 1mm or 2mm Optical Fiber Diameter
Standard lengths or customize to fit your specific application requirements
Optical Fiber comes in black or one of 5 new colors: Red, Green, Blue, White, Yellow

Zero Light Bleed Protection
Available with Built-In SMD LED
Built-In SMD LED available in 14 color options including single color, bi-color, tri-color
Built-In SMD LED reinforced packaging ideal for rugged environment applications
3 Mounting Options: Surface Mount, Firm Retention, Post Retention
Features & Benefits
Simplified sourcing. Bivar makes sourcing a flexible light pipe simple with an all-in-one solution: Zero Light Bleed adapter, LED, flexible fiber, and lens in one, delivering convenience and resource savings for both procurement and assembly.
Optimum compatibility. Designed with the most compatible LED, flexible light pipe, and lens combination, the Zero Light Bleed flexible light pipe system provides maximum light transmission while eliminating light cross-talk between light pipes.
Enhanced durability. In the surface mount flexible light pipe system, the Zero Light Bleed adapter assembly is soldered directly to PCB, thus strengthening attachment to the PCB. The new light pipe system is optimal for high-vibration applications.
Customization Options
Standard fiber lengths available from 1.5" to 300' in increments of .5"
Custom fiber lengths available in increments of .25"
Customize the adapter and lens as desired